What is Unlimited Content Ideas Generator?
A 22-page timeless content ideas generator ebook that allows you to come up with countless ideas mapped to your buyer's journey. Isn't it fantastic? Here's what you can do with it:
A ton of benefits for you:
Clearly define the challenges, aspirations and outcome for your target audience

Use the timeless conflict-resolution storytelling framework to come up with multiple content pillars

Revisit the generator time and again to come up with new ideas

Create the exact content that your audience is looking for

Never run out of inspiration for your next big content marketing campaign

Simultaneously plan content for Blogs, Social Media, YouTube, Pinterest, Podcasts, Newsletter, and your website

Examples to get you going
​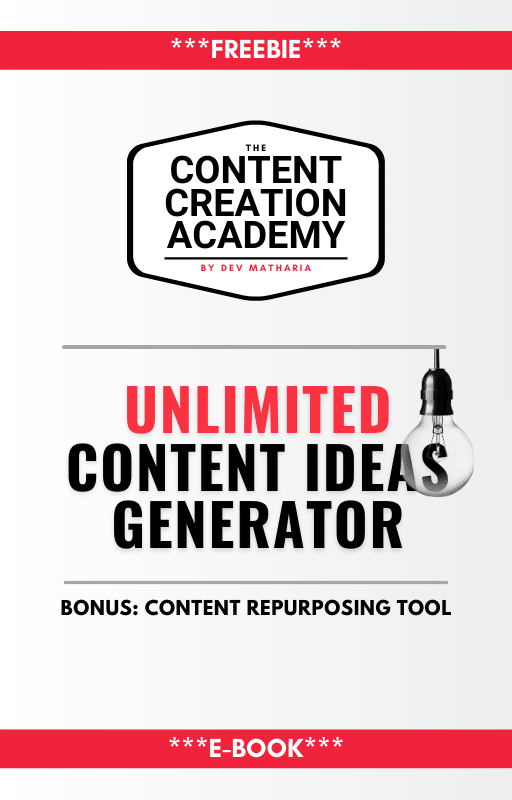 ​
You will never run out of content ideas again!
Why do you need this?
Save tons of time looking for content inspiration

Instantly fill your content calendar for the next two months

Create highly engaging and targeted content that your audience would love

Stand out with unique content ideas

Align all your content to your business goals

Never take a shot in the dark again when it comes to targeted content

Only speak to the audience who would buy from you

Come up with content ideas that will build a community around your product/service

No jargons, no complex content advice, the Unlimited Content Ideas Generator is actionable right from the word go

Finally, say goodbye to content that no one loves to read
​
Feedback on the ebook
​